Romantic B&B and BDSM Vacation in Salinas, CA
Located in Salinas, CA, Monterey Stay and Play is a private, secluded erotic getaway that also offers all of the great amenities as a kinky BnB, making us the best place for a BDSM vacation! We aim to provide our guests with a safe place to explore their fantasies, fetishes and erotic lifestyles, all in the comforts of a well-appointed room and board. You and your partner are limited only by your imaginations—we provide the accouterments to make it a reality.
If you and your partner want to explore your bondage fantasies, enjoy a visit to one of the best BDSM vacation spots. The BDSM fantasy is a popular one, with many couples wanting to try out restraints, impact entertainment, and more. Hotels don't offer enough privacy or soundproofing, nor is the equipment exactly designed for secure and safe games. Monterey Stay and Play is a bed and bondage facility that offers a space for erotic entertainment with discretion. Even couples who aren't ready to jump into the kink BDSM lifestyle can enjoy hot sex with the dungeon as a backdrop.
If you're new to the experience, you can try out different toys without having to make an investment in items that you may not end up enjoying. Even if you're not new to the lifestyle, a sex dungeon can give you space to try new things without inhibitions. Because the space is discrete, you won't be bothered by the mundane. You won't be disrupted by ringing doorbells, kids coming home, or pets needing attention. WiFi is offered, but you can turn off your devices to enjoy your time together.
The BDSM scene isn't about abuse or power. It's about communication and sensual experiences that might include pain, depending upon the discretion of the partners. Many of the scenes are carefully choreographed before the experience, and should always include consent. Both parties must consent to what will happen, and the methods through which it will be carried out. Lest you think that it kills the intensity in the moment, this type of discussion can add to the foreplay. Our facilities assure guests total and complete privacy. The Monterey Stay and Play is completely separate from the main house and only open to one party at a time.

Our owners are active within and supportive of the BDSM and kink community, as well as on FetLife. We offer affordable booking rates for both weekday and weekend stays, with discounts for multiple bookings. All guests receive a breakfast, with a menu that's prepared fresh each morning. We also offer optional gourmet dinners and can arrange them by request. Our rooms are completely furnished and fully stocked with everything you need to experiment and enjoy yourself!
One-of-a-Kind BDSM Rooms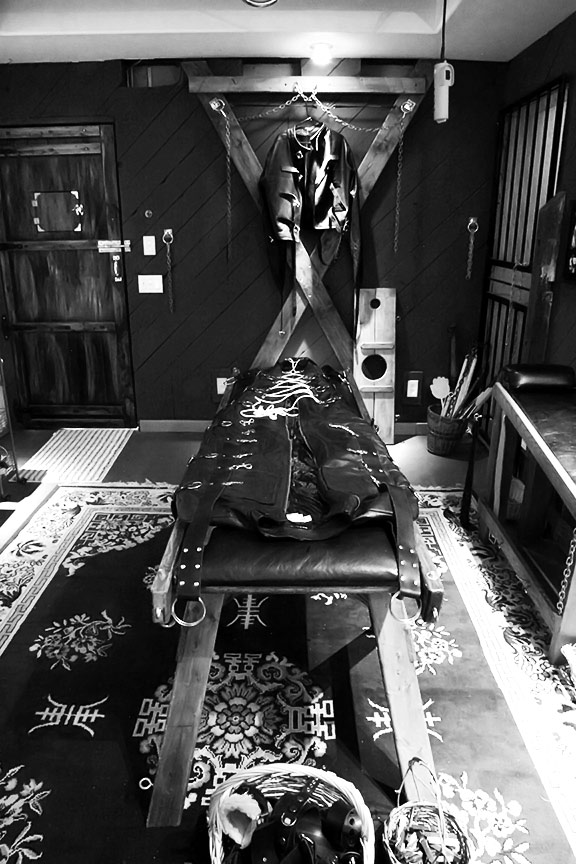 Looking for a getaway destination that's welcoming and comfortable, yet equipped with everything you need to take your wildest fantasies to their highest levels? Monterey Stay and Play welcomes you! We're a unique, one-of-a-kind room and board: similar to a bed and breakfast, but one that caters to the bondage and kink communities. Our property is available to open-minded, consenting adults who want to spend time exploring their erotic fantasies in a place that's well-equipped to do so. From our collection of diverse adult videos to our many available accouterments to our specialized furniture, it's all open to you and your partner. And, with everything you require for casual lounging, aftercare and general intimacy, you're sure to love every moment of your visit with us!
We are more than just an erotic room and board—we're a steward within the adult erotic community. Our lodgings are meant to be a safe space, free of judgement, danger or vilification of alternative lifestyles. We value privacy, discretion and safety above all else. When consenting adults book a reservation with us, they're guaranteed an intimate, immersive experience that's completely welcome. Our owners are themselves long-time members of the community, which means we're a destination created for kinksters, by kinksters! To learn more about our accommodations or to book your visit today, feel free to contact us.
Single Rental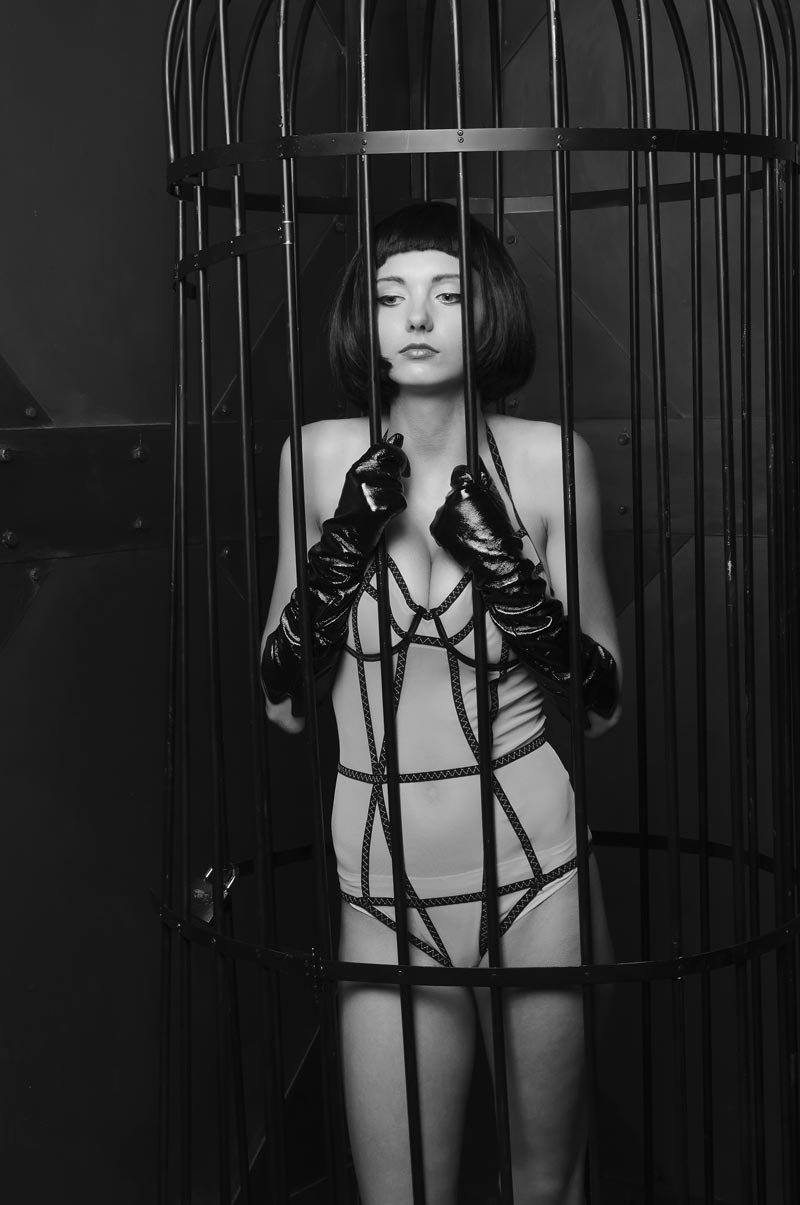 Monterey Stay and Play is a private bondage b&b, separate from the main house. Only one couple can rent the space at one time, with the house including two levels. Upstairs offers a large sitting area, a kitchenette, and an outdoor deck. You and your partner can relax, watch DVDs, or cook on the outdoor grill. There's plenty of room to discuss how you intend to engage. Although the room is furnished with regular furniture, it also includes a curated selection of bondage equipment, such as a leather swing, wooden cross, and massage table. Just sitting in the room can be highly sensuous and tantalizing. We ensure your privacy by not having any other guests booked while you rent the space, making it truly your own.
The lower level features an even more exotic and erotic experience. The formal dungeon is a BDSM playroom and bondage room that includes a real jail cell, bondage post, hanging chain cage, spanking bench, stocks, and much more. We furnish the room with a huge assortment of restraints, rope, chain, and toys. Just off the dungeon is a full bathroom suite with a multi-headed shower and tub. It's a luxurious space for aftercare or further games. A queen bed with fine linens and down comforters is available on both levels. You may use one or both at your discretion.
We recommend that you discuss what you want to try with your partner before you ever arrive. If you can't make that happen, plan to use the upstairs living area to talk about your time here. Make sure to always have a safe word. Red, as in a red light or stop sign, can be a good word to use. If you're new to BDSM, you might want to let each person have an opportunity to be the dominant partner. It can help you understand what each role is all about, and can help you find new ways to engage. You may also want to watch some DVDs about BDSM, in order to get an idea of what really entices you.
Cleanliness Is Important To Us
Cleanliness is a perennial issue in any space that serves the public. When you're dealing with a facility that serves its guests so intimately, it must be a primary concern. We have meticulous cleaning standards. Between rentals, we spend over three hours deep cleaning every inch of space, including the toys and equipment. Our team uses Lysol, alcohol, and other antibacterial agents to wipe down every surface to prevent germs from being transferred. We want this space to be sex positive and safe.
Who Stays At Monterey Stay and Play?
Pop culture often portrays the stereotypical enthusiast as a sex-crazed lunatic who is purely into abuse and power. For much of the 20th century, sexual sadism and masochism were classified as a deviation or a psychiatric disorder. It's estimated that about 2 to 3 percent of adult Americans engage within the BDSM lifestyle. Many more adults report that they get aroused by bondage stories and images. Judging by the popularity of the 50 Shades books, it's likely that the numbers could be much higher.
The people who stay at our romantic B&B are varied. We don't have a usual customer. It might be a husband and wife who desire to explore fantasies after reading 50 Shades of Grey. Couples come on their anniversaries and birthdays to try out something new. Some longtime BDSM couples come and visit to experiment with new equipment. Even vanilla couples who aren't sure what they want to do can enjoy intimacy amid the backdrop of the sex dungeon.
One of the ironies in the community is that the submissive is often the person most in charge because the dominant person, who might be controlling the scene, has to respect the boundaries of the other person. Couples who want to experiment with BDSM in a sex dungeon have to respect each other. The person who acts dominant must always make sure that the submissive feels safe. Monterey Stay and Play is a safe place where couples can explore, but it's up to the couple to discuss their limits and safewords before any play begins.
The couples who stay with us are mostly ones who want to be more intimate in their relationship. It isn't always easy to discuss sexuality when you haven't been open with your partner. You have to let your guard down, both literally and figuratively. You should plan to have frank conversations about your sensuality and sexuality before, and after, your visit with us.
Monterey Stay and Play is a private and secluded retreat akin to a B&B rental in Salinas, CA. Providing guests from all around the world a safe space to explore their wildest fantasies, Monterey Stay and Play is conveniently located near the beautiful California central coast destinations of…
Monterey, CA
Carmel, CA
Pacific Grove, CA
Pebble Beach, CA
Santa Cruz, CA
San Jose, CA
San Francisco, CA
Oakland, CA
Stay and Play Today!
Ready to take your relationship to new places? Book your visit with Monterey Stay and Play to enjoy a night, weekend, or even longer. We offer multiple night discounts as well, contact us to get more information.
Whether you're a hardcore BDSM player or completely new to the lifestyle and experimenting with a partner, you'll find something stimulating at Monterey Stay and Play. Book your long-term bondage BDSM vacation today!
Book Your Stay