Secluded and private, catering to your every fetish and fantasy, the Monterey Stay and Play is your destination to indulge your erotic lifestyles in a safe, comfortable way. Whether you're a hardcore player in the BDSM scene or want to explore safe, sane, consensual erotic fetishes with a partner, we'll make sure you have the amenities and accoutrements to do it!
Privacy is Paramount
Our space is completely private and absolutely discrete, rented out to one party at a time and completely secluded from our main house. You'll never have to worry about being interrupted—the place is completely yours.
Rates
Our bondage rooms in Salinas, CA are available for a totally private experience as a couple, we also offer our accommodations to weddings, anniversaries and collaring ceremonies—we have entertained up to 20 people on our property.
Rates are based on two people. Add $75.00 per night, per each additional guest.
Our rates are as follows:
$250 per night
weekday rates
$350 per night
weekend and holiday rates
$50 Discount
If you book more than one consecutive night.
$150 Discount
If you book two weekend nights.
Our Amenities
Our BDSM rooms in Salinas, CA currently offer two luxurious queen-size beds, located in the formal dungeon and the upstairs living area. The upstairs area offers a large sitting area, kitchenette (no stove) and an outdoor smoking deck with a grill. This area is furnished with regular furniture, as well as an assortment of bondage furniture, including a large inescapable metal cage, leather swing, sturdy wooden cross and formal massage table. There's also a TV, DVD and VCR, with a supporting catalog of fetish videos for your convenience.
The lower level of our facilities offers a full bathroom suite, complete with multi-headed shower and tub, attached to the formal dungeon. The dungeon is fully-equipped with a real jail cell, bondage post, bondage table, cross, hanging chain cage, stocks, spanking bench, electric winch and much more. It's also fully stocked with an assortment of toys, rope and chain, as well as metal and leather restraints.
Pleasure Meets Comfort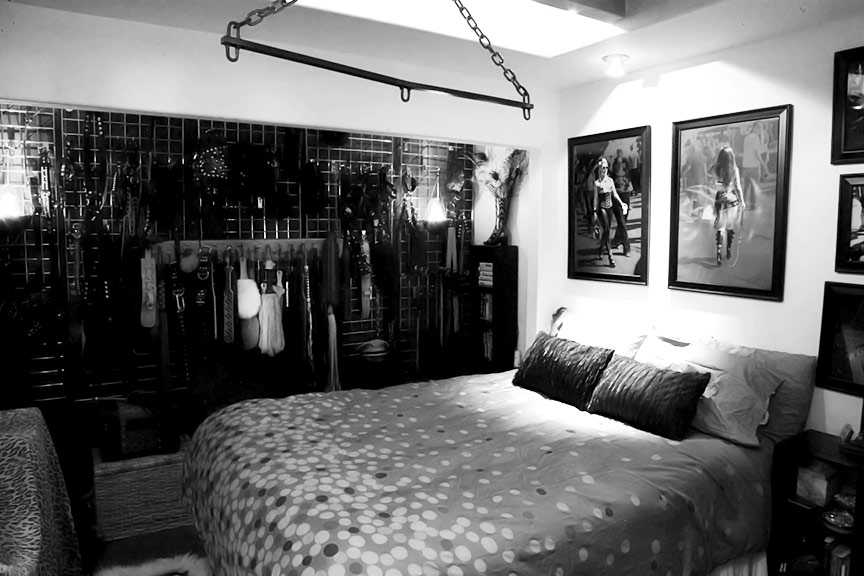 In addition to catering specifically to the BDSM and kink community, we're also proud to run an extremely hospitable room and board. We take pride in offering you top-level comforts and generous aftercare options, including fine linens and down comforters, an outside claw foot soaking tub, comfortable robes and slippers, free Wi-Fi, complimentary coffee, snacks, soft drinks, and an outdoor gas grill, among others.
Book Your Stay
Enter a domain that's designed around all of your fantasies and fetishes—book the Monterey Stay and Play today! We can be reached at 831-236-6161.