September 29, 2023 4:58 pm
Leave your thoughts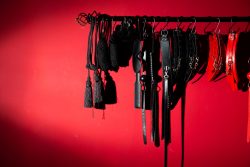 BDSM, short for bondage and discipline, dominance and submission, and sadism and masochism, is a widely misunderstood and often stigmatized practice. However, beyond its intricacies lies a form of artistic expression that has influenced various creative mediums throughout history. In this blog post, we will delve into the exploration of how BDSM has influenced art, literature, photography, and other forms of artistic expression.
1. Breaking Taboos: Historical Influences on Art
BDSM has a long history, and it can be traced back to ancient civilizations such as the Greeks and Romans. Artists, particularly during the Renaissance, used the symbolism of BDSM to push societal boundaries and challenge the norms of their time. Famous works such as Michelangelo's "The Slave" and Caravaggio's "The Flagellation of Christ" subtly or explicitly depict BDSM themes, thus using art as a platform for social commentary and pushing boundaries.
2. Literature: The Written Expression of BDSM
BDSM has also played a significant role in literature, with authors using BDSM as a metaphor for power dynamics, personal growth, and exploring human desires. One prominent example is Marquis de Sade's infamous works, such as "Justine" and "The 120 Days of Sodom," which explore extreme fantasies and the boundaries between pleasure and pain. These works not only challenge societal norms but also provoke discussions on consent, power dynamics, and the human psyche.
3. Photography: Capturing the Essence of BDSM
BDSM also found its way into the world of photography, offering a visual representation of power dynamics, intimacy, and personal exploration. Figures like Helmut Newton and Robert Mapplethorpe have been known for their provocative and boundary-pushing photographs, often incorporating BDSM imagery. Their work showcases the beauty, vulnerability, and strength found within BDSM, challenging traditional ideas of sexuality and embracing diverse expressions of desire.
4. Film and Media: Channeling BDSM on the Silver Screen
In recent years, BDSM-themed films like "Secretary" and the "Fifty Shades of Grey" trilogy have garnered significant attention. While the latter faced criticism for its portrayal of BDSM dynamics lacking proper consent and communication, it undeniably brought BDSM into the mainstream consciousness. These films have opened up conversations about BDSM, sexuality, and personal agency, encouraging viewers to explore and question their desires while expanding the boundaries of artistic expression.
5. Performance Art: Embodying BDSM on Stage
Performance art, with its interplay between the body, emotions, and symbolism, has also embraced BDSM as a form of expression. Artists use their bodies as a canvas, embodying dominant or submissive roles, exploring themes of control and release, and challenging societal norms. One famous example is Marina Abramovic's "Rhythm 0," a performance where audience members were invited to interact with her using various objects, blurring the lines between art, consent, and human connection.
Conclusion
BDSM, with its intricate power dynamics, consent-driven relationships, and exploration of desires, has undoubtedly influenced various artistic expressions throughout history. From the art of the Renaissance to contemporary films, literature, photography, and performance art, BDSM has served as a catalyst for pushing artistic boundaries, challenging societal norms, and providing a language for personal and artistic exploration.
It is essential to recognize that while BDSM has inspired numerous creative works, it is crucial to incorporate consent, communication, and respect in both artistic portrayal and personal practices. By embracing the multifaceted nature of BDSM, we can continue to foster an inclusive and expressive artistic landscape that celebrates diverse forms of human expression.
Visit Us Today!
Monterey Stay and Play is a private and secluded room and board where your wildest fantasies can come true. It is a place where you can explore and experiment in the privacy of a well-appointed erotic room and board. Monterey Stay and Play is a fully custom B&B (bed and bondage) where you and your partner are limited only by your imaginations. We provide a completely private, secluded, and self-contained building that is only rented out to one party at a time to ensure privacy and complete discretion. Monterey Stay and Play is dedicated to providing a safe and comfortable space that welcomes exploration of safe, sane, and consensual erotic fetishes and fantasies for the sexually adventurous. Contact us today to learn more about what we can do for you!
Categorised in: BDSM
This post was written by admin