October 16, 2023 8:44 pm
Leave your thoughts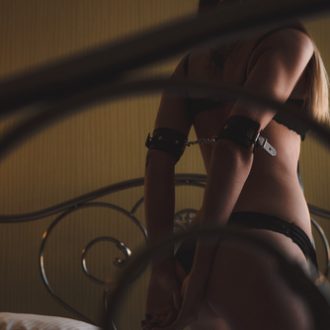 Exploring one's sexuality is a natural and healthy part of any relationship. However, when it comes to discussing kinks and fetishes, many individuals find it challenging to open up to their partners. The fear of judgment, rejection, or misunderstanding can make these conversations incredibly nerve-wracking. In this blog post, we will guide you through some effective ways to share your desires with your partner, fostering open and non-judgmental communication.
Choose the Right Time and Place
Finding the perfect moment to discuss your kinks and fetishes is crucial. Ideally, this should be during a calm and relaxed atmosphere, without external distractions. Choose a time when both you and your partner are in a good mood, free from stress or any other emotional burden. Additionally, ensure that there is an adequate amount of time to have a thorough conversation without rushing or interruptions that could hinder a productive and understanding dialogue.
Start with Self-Reflection
Before approaching your partner about your kinks and fetishes, it is important to engage in a process of self-reflection. Take the time to understand your desires, figure out what aspects truly appeal to you, and identify why they are significant in your sexual expression. Being able to clearly articulate your thoughts and emotions will help you better explain your needs to your partner, reducing the chances of miscommunication or confusion.
Build Trust and Establish Open Communication
To create a safe environment for such a vulnerable conversation, it is crucial to build trust and establish open communication within your relationship. Trust is the foundation upon which successful, loving, and respectful relationships are built. Ensure that you have a solid foundation of trust before delving into this intimate discussion. Additionally, maintaining ongoing, open communication with your partner allows for a deeper understanding of each other's desires and needs, increasing the likelihood of a positive and supportive response.
Use "I" Statements
When expressing your desires, it is important to use "I" statements. Avoid sounding accusatory or placing blame on your partner for not already knowing about your kinks or fetishes. Instead, focus on expressing your feelings, needs, and desires. For example, saying "I would like to explore BDSM because it ignites a sense of adventure and intensity in me" rather than "You never fulfill my desires" places the emphasis on your personal experience, creating a more empathetic and understanding space for discussion.
Educate and Inform
It is important to remember that your partner may have limited knowledge or understanding of certain kinks or fetishes. Therefore, it is essential to approach the conversation with a willingness to educate and inform. Share resources such as books, articles, or documentaries that can help your partner grasp the essence and appeal of your desires. By presenting well-researched and reliable information, you promote a sense of legitimacy and alleviate any potential concerns or judgments.
Encourage Your Partner's Participation
While discussing your kinks and desires, encourage your partner to actively participate in the conversation. Ask about their own fantasies, desires, and boundaries. This dialogue should be an opportunity for both of you to grow and better understand each other's sexual needs. By fostering a reciprocal exchange, you create an environment where exploration and experimentation become the shared foundation of your sexual journey.
Respect Boundaries and Acceptance
It is crucial to remember that not all fantasies or kinks may align with your partner's boundaries or desires. It is essential to approach their response with empathy, understanding, and acceptance. Respect their autonomy and boundaries, just as you would expect your own to be respected. If your partner is unwilling to engage in your specific kinks, find common ground where both of your needs can be met, ensuring a consensual and fulfilling sexual experience for both parties.
Conclusion
Sharing your kinks and fetishes with your partner can be an intimidating experience, but it is an important aspect of cultivating a healthy and fulfilling sexual relationship. By choosing the right time and place, engaging in self-reflection, building trust, and fostering open communication, you can create an environment conducive to sharing and understanding. Remember to approach the conversation with respect, empathy, and education, allowing both you and your partner to grow together, exploring new realms of pleasure and connection.
Visit Us Today!
Monterey Stay and Play is a private and secluded room and board where your wildest fantasies can come true. It is a place where you can explore and experiment in the privacy of a well-appointed erotic room and board. Monterey Stay and Play is a fully custom B&B (bed and bondage) where you and your partner are limited only by your imaginations. We provide a completely private, secluded, and self-contained building that is only rented out to one party at a time to ensure privacy and complete discretion. Monterey Stay and Play is dedicated to providing a safe and comfortable space that welcomes exploration of safe, sane, and consensual erotic fetishes and fantasies for the sexually adventurous. Contact us today to learn more about what we can do for you!
Categorised in: BDSM
This post was written by admin