October 16, 2023 8:44 pm
Leave your thoughts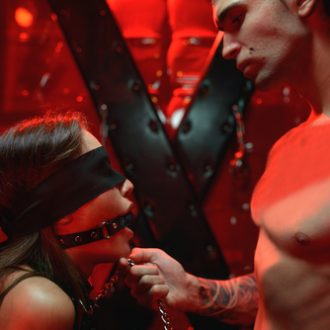 Bondage is a widely known and popular BDSM practice that involves restraining a person's movements for erotic purposes. Within the realm of bondage, there are various techniques and tools that can be used to enhance the experience. One such technique is "predicament bondage," a form of bondage that adds an extra layer of excitement and challenge to the submissive's predicament. In this blog post, we will explore the concept of predicament bondage and how it works.
1. Understanding Predicament Bondage
Predicament bondage involves placing the submissive in a position where they have to make a difficult choice or endure discomfort, regardless of their decision. It creates a predicament, hence the name, where the submissive is faced with conflicting stimuli or demands. The purpose of predicament bondage is to intensify the power exchange dynamic and test the submissive's endurance, willpower, and ability to make decisions under pressure.
2. Psychological and Physical Aspects
Predicament bondage taps into both psychological and physical aspects of BDSM play. Psychologically, it can create a feeling of helplessness, vulnerability, and anticipation as the submissive is forced to navigate through a challenging situation. It also requires communication and trust between the dominant and the submissive, as the boundaries and limits need to be clearly established and respected. Physically, predicament bondage can involve positioning the submissive in uncomfortable or strenuous poses, exerting physical stress on their body, or creating sensations that are both pleasurable and painful.
3. Variety of Techniques and Scenarios
There are numerous techniques and scenarios that can be employed in predicament bondage, each offering a unique experience. For example, one technique could involve tying the submissive's hands above their head and attaching a rope or weight to their genitals. In this scenario, the submissive has to endure the tension and discomfort of the rope or weight pulling on their genitals, while their arms become fatigued from being held above their head. Another scenario might include placing the submissive on a narrow ledge or stool, requiring them to maintain balance and avoid falling while being subjected to various sensory stimulations.
4. Dualities and Contradictions
What makes predicament bondage captivating is the element of contradictions it introduces. Submissives may find themselves torn between two options, both of which pose challenges or discomfort. The psychological strain of deciding between the lesser of two evils can be incredibly arousing for some individuals. The dominant, in turn, derives pleasure from observing and sometimes manipulating their submissive's predicament, controlling their choices, and ultimately their physical and psychological well-being.
5. Communication and Safety
As with any BDSM practice, effective communication and consent are paramount in predicament bondage. Clear negotiation, discussing limits, and establishing safewords are essential steps to ensure a consensual and enjoyable experience for all parties involved. The dominant needs to be perceptive of the submissive's cues, both verbal and non-verbal, and be ready to respond or adjust the predicament accordingly. It is crucial to maintain an atmosphere of trust and respect throughout the session.
6. Predicament Bondage in Practice
Predicament bondage can be tailored to suit individual preferences and desires. Some may prefer a more physical experience, while others might enjoy mental challenges. It is important to explore and experiment with different techniques to find what works best for you and your partner. Incorporating various props such as ropes, chains, pulleys, or even everyday objects can add creativity and unpredictability to the scene.
Conclusion
Predicament bondage offers a unique and exciting twist to traditional bondage play. By creating a predicament where the submissive must make difficult choices or endure discomfort, this practice intensifies the power exchange and pushes the boundaries of endurance and decision-making under pressure. Both psychological and physical aspects come into play, requiring clear communication, trust, and mutual consent between the dominant and submissive. With proper negotiation and respect, predicament bondage can be an exhilarating and rewarding experience for those who wish to explore the realm of BDSM beyond the conventional.
Visit Us Today!
Monterey Stay and Play is a private and secluded room and board where your wildest fantasies can come true. It is a place where you can explore and experiment in the privacy of a well-appointed erotic room and board. Monterey Stay and Play is a fully custom B&B (bed and bondage) where you and your partner are limited only by your imaginations. We provide a completely private, secluded, and self-contained building that is only rented out to one party at a time to ensure privacy and complete discretion. Monterey Stay and Play is dedicated to providing a safe and comfortable space that welcomes exploration of safe, sane, and consensual erotic fetishes and fantasies for the sexually adventurous. Contact us today to learn more about what we can do for you!
Categorised in: BDSM
This post was written by admin